Yesterday I got my Fall box down and realized with horror that I was so frustrated with my deco from last year that I had thrown almost all of it away. Bad Jenny, bad Jenny!
As a part of Melissa's Fall Nesting party, she is giving away a $200 gift card to HomeGoods (TJMaxx) in case you need a little help in a room. Here's the area of my living room that needs some help:
Don't pay no mind to that horrible job of mirror cleaning. J just doesn't have that knack and I have to give it time before I fix it because "No, honey. You did a great job!" Hee! I love my 'Give Thanks' plaque and candles but it's still too stark for me.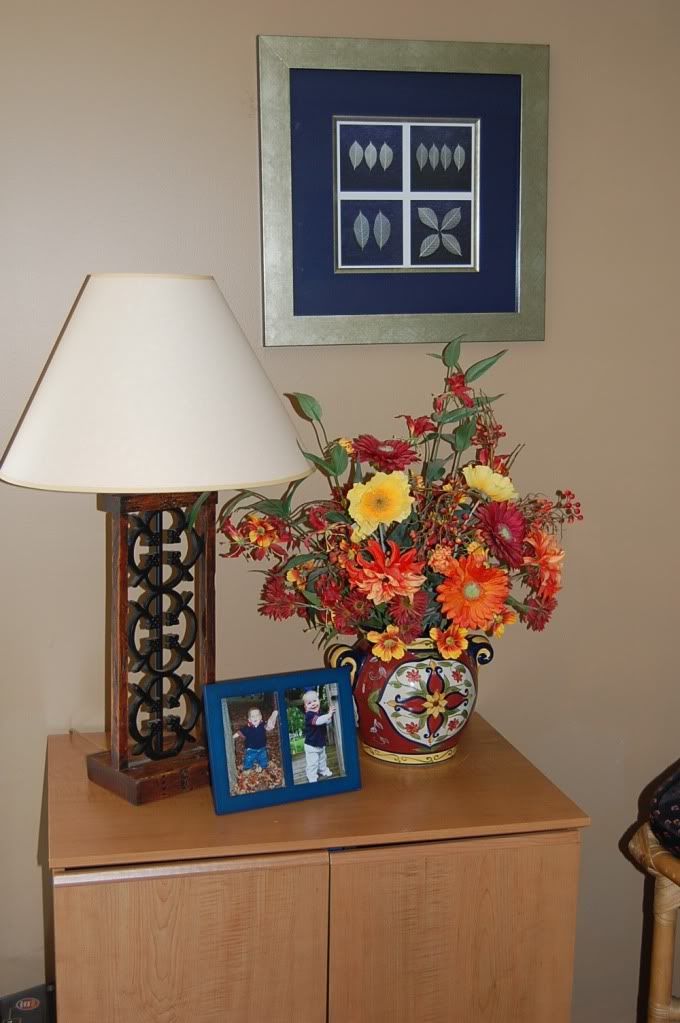 The plain lamp shade is driving me crazy! and I need some material or something down there, don'tcha think??
Since I've got a great opportunity for new Fall deco (ahem!) then I've been checking out some great ideas:
~You can sign up for free holiday and Celebrations e-newsletter through Better Homes and Garden for the next 100 days. You can decide which holidays you'd like most info/ideas on, etc. Hello, it's BHG…good stuff!
~Frugal ideas for Autumn decor ideas are pretty good at Budget101
~Another BHG place for great Autumn Decorating ideas. (I swear I'm not a BHG fruitloop, but they do have some great ideas.
Now I need to see what else I can find and then on to some Fall recipes….