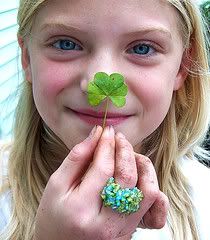 Whew!…I think Old Man Winter has finally given his last hooray in the Ozarks. Just in time for St. Patty's day. It's such a refreshing holiday….so fun for the start of Spring.
Except for J and I, it's a little more.
For us it's a reminder of many moons ago, when he asked me to date him exclusively. What's funny is I look back to that day and remember sitting in his truck in the pouring rain and thinking, "Can he NOT smell his meatball sub burps? Cause I CAN!" Poor guy, he was so nervous. I also remember telling him that I was willing to put all my eggs in his basket (ok, that didn't sound good).
Now, he remembers a completely different story. Yes, he remembers the bad meatball sub burps, but he also tells me that I didn't say I would stop dating around. I left him hanging.
I think the stench clouded his memory.
Image courtesy of Pink Sherbert Photography